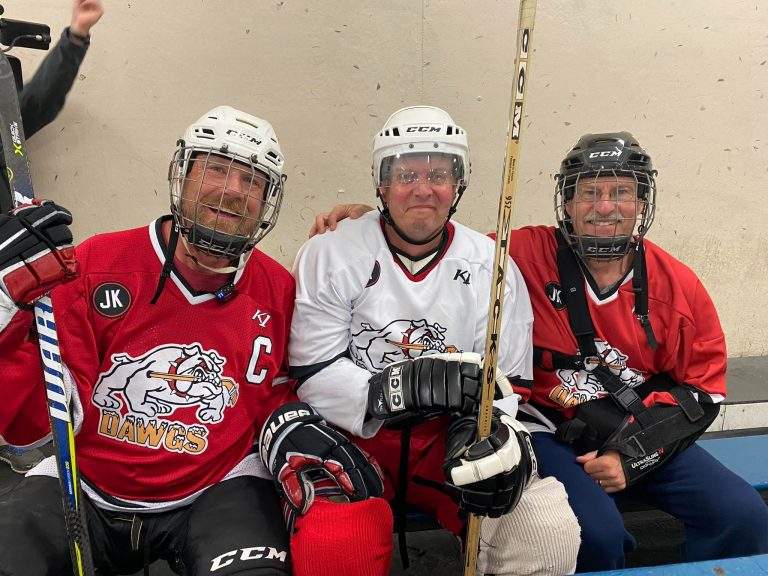 DAWG Bowl
We are excited to be able to unleash the power of the hockey community once again!
Featured DAWG Bowl Events
June 22, 2022 8:00 am

DAWG Bowl XII

---

Click HERE to Start Bidding In The DAWG Bowl Auction!

DAWG Nation is thrilled to bring back a bigger and better DAWG Bowl than ever before. We are excited to be able to unleash a full bag of giving back! With a record 58 teams and 1,000 players, you can expect great hockey, meaningful moments, and most importantly giving back. DAWG Bowl XI embarks on another decade-long journey of giving back and focusing on those in need. You can expect tons of NHL players, "off the charts" auctions, food, contests, smiles, fist bumps, and of course a few tears! Please join us as we witness amazing generosity at every turn and lift up those in need while celebrating the game we all love! Spectators are welcome to come enjoy the games that will include competition across eight divisions.

All games are open to the public and free of charge.

2022 Game Schedule | CLICK HERE

Programming Schedule | CLICK HERE

Streaming of games online available | CLICK HERE

Mainline West Top Dawgs

Many past and present NHL players will once again be participating in the tourney's top division. Former Avs John Mitchell, Jan Hejda, Aaron McKenzie, and former NHL'er David Clarkson, and will lead the Mainline West TOP DAWGS. Thanks to David Carle, we are thrilled to add several of the current Denver University Pioneers to this year's star-studded lineup.

Coach Carle will be adding his talent to this year's squad as the coach in the quest to unseat Denver Concrete from their three-year reign. The Top Dawgs have never won the DAWG Bowl, losing the last two years in the finals.

Troy Terry and the TAG (The Ahbe Group) Team have been training and are primed for an upset. Of course, Denver Concrete, two time defending champion, will be quietly waiting. There is no shortage of top talent across the platinum division.

Sled Hockey Tournament

While we have honored sled hockey in the past with exhibition games, this year we are proud to offer a four-team tournament and declare a champion in this division.

The four teams competing this year are Colorado Sled Hockey, Warrior AVS, Buffalo Sled Vets, and the Vegas Golden Knights. This division will play a total of 7 games including a championship.

All games will take place in the east arena.

Survivor Game — Saturday 6/25 - 2:35 pm - East Rink— Don't Miss It!

We are honored to bring back the Survivor Game for DAWG Bowl XI, the centerpiece of our DAWG Bowl. Everyone in the survivor game is just that, a SURVIVOR of a life-threatening illness or injury. Do you remember two of our recipients from last year from our captains' challenge, Dave Carr and Tony Cozza? Well, they are back and looking forward to not only playing in the tournament but in the Survivor Game.

Another recent recipient, Dave Tscherpel, is fighting cancer and battling back to play in the his first Survivor Game. It is hard to put words into what this game means to those folks who have fought so hard to make it back to the ice. Join us Saturday in creating a crowd worthy of the courage and resilience they have shown. So get your rally towels ready for Saturday, June 25th at 2:35 pm.

TOURNAMENT CHAMPIONSHIP GAMES — SUNDAY JUNE 26th

● Bronze A - West at 12:50 PM

● Copper C - East at 1:05 PM

● Copper B - West at 2:00 PM

● Silver - East at 2:15 PM

● Copper A - West at 3:10 PM

● Platinum - East at 3:25 PM

● Women's - West at 4:20 PM

● Bronze B - East at 4:35 PM




SHAW Hockey Productions is Back!

Shaw Hockey Productions is back streaming even more games with play-by-play and color! We are so grateful for our partnership with Mike and Suzanne Shaw. They bring a whole new level of professionalism to our events and open up games to a much wider audience than we ever dreamt possible.

Working closely with the Shaws, we are currently planning on covering one game from every team as well as all platinum games, championship games, and the Survivor Game. The schedule for streaming is included in the schedule with the Game# highlighted yellow. Of course, it is subject to change as we work with SHAW to cover games.

Giving Back - SATURDAY, JUNE 26TH

Most importantly, we will be rallying around recipients and their families that will need our help. Folks we likely don't even know right now are going to be blown away by the love and generosity that we get to create together!

Great day Marty and Mike! I played my 2nd competitive game last night. So blessed to be playing again and so thankful to DAWG Nation and everyone from DBX for all you have done for me!

Dave Carr DBX recipient

You will remember from last year's locker room talks that Dave shouldn't even be alive after being hit head-on in a car accident. You and your teams made our generosity to these recipients possible, with over $130,000 towards recipients over the five days. This year, we will meet the needs of recipients who are unaware of the generosity and love of the hockey community coming their way!

Dawg Nation Hockey Foundation exists to aid those in the hockey community that can use a helping hand. Dawg Nation will be presenting several check presentations throughout the weekend to recipients and their families in need. We will be practicing social distancing during check presentations. Times and locations to be announced.

Be sure to be on hand to witness the essence of our organization as check presentations will be made throughout the event. You'll see firsthand why one of our motto's is "we make tough guys cry".

Check Presentations

● Schedule TBD

Activities:

Food and Beer and Fun!

The Penalty Box is open for business and we will have an outside beer garden, tents, and TVs outside. On Friday, we will be watching AVS in their quest for the Stanley Cup.

THURSDAY, JUNE 23

I Know You Sliders: 5:00 pm - 8:00 pm | www.iknowyousliders.com

FRIDAY, JUNE 24

I Know You Sliders: 5:00 pm - 8:00 pm | http://www.iknowyousliders.com/

SATURDAY, JUNE 25

BBQ hosted by Skylight Specialists: 12pm to 1:30pm

I Know You Sliders: 5:00 pm - 8:00 pm | www.iknowyousliders.com

The snack bar will be serving breakfast burritos along with other food, 8:00 am to close. The Penalty Box (Edge Bar) will be open from 9 a.m. to 2 a.m.

Live Music!

Thursday June 23 - 6pm to 8pm Powerflushers

Friday June 24 - Avs Stanley Cup Play-Off Game Watch Party

Saturday June 25 - 6pm to 7:30pm - TBC

Off The Chart Auction

Wednesday kicks off our "Off the Chart Auction". As usual we will have items for everyone. Sports memorabilia is high on the list of items available, and we always remember the ladies with spa services, plus feature great family items like adventure packs and gift certificates.

The auction begins on Wednesday June at 12 noon and runs through Saturday June 26 at 5 pm.

Text dawgbowlxii to 76278 to bid on amazing auction items

Or

CLICK HERE to start bidding




Silent Auction final pick up: SUNDAY, June 26 — 9:00 am - 12:00 pm

Winning bidders will need to pick up their items by Sunday noon at the arena. No shipping of items, local residents only.

You won't want to miss out on some great items and bargains.

We are building an absolutely "over the top" silent auction with a wide array of incredible items! So stay tuned…

Unbelievable auction consisting of dozens of signed memorabilia, incredible experiences—vacation packages, golf outings, salon services, a Velux Sun Tunnel, gift cards, and much, much more.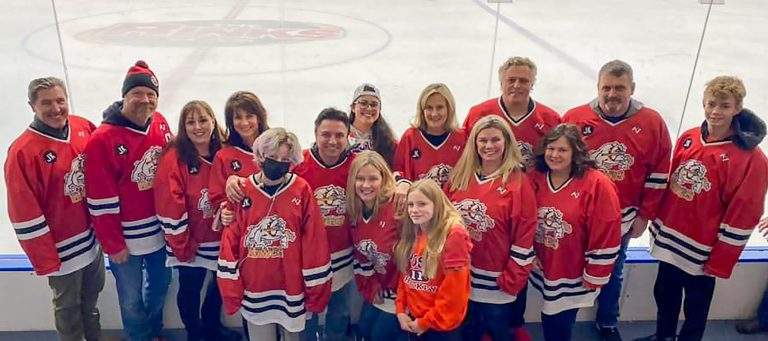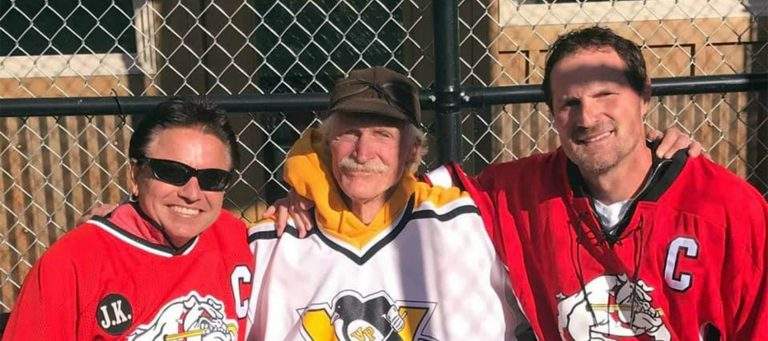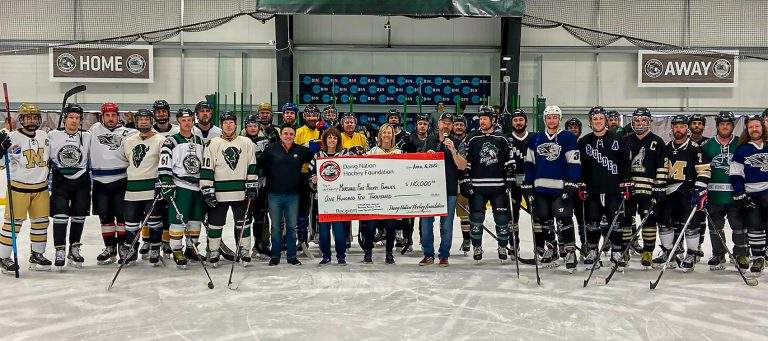 Play Hard. Play Fair. Give Back.™
The DAWG Nation Hockey Foundation is a 501(c)(3) nonprofit organization dedicated to providing opportunities for people with and without disabilities to gain confidence and independence through participation in national and international amateur ice hockey events, as well as to supporting local, national, and international amateur ice hockey players and their families during times of crisis. Since its inception DAWG Nation Hockey Foundation has been able to give out millions of dollars to positively impact the lives of many families in need. Do you part to assist the hockey community by volunteering, donating, or sponsoring one of our events or individuals.