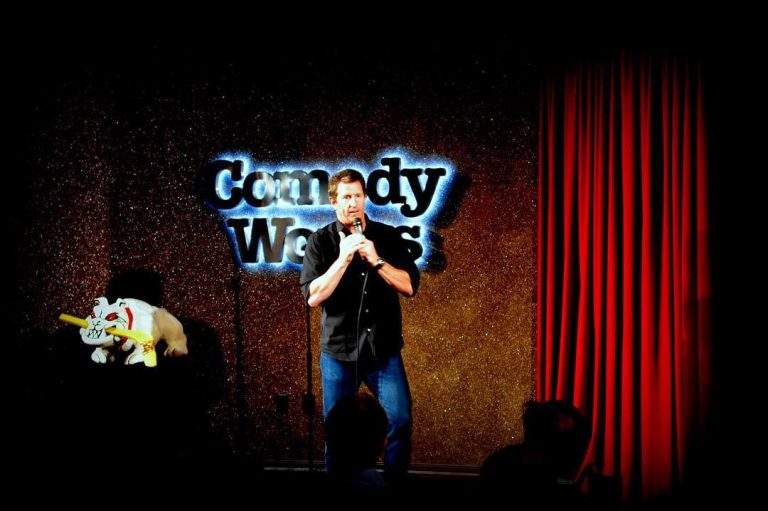 Stand Up For DAWG Nation
We are grateful for our partnership with Comedy Works South at The Landmark. Over the past 11 years, we have laughed and cried our way to helping more people through this event. Mark your calendar on Wednesday March 8th, 2023 for our annual Stand Up for Dawg Nation Comedy Night! 
Featured Comedy Events
March 20, 2024 7:00 pm

Stand Up for DAWG Nation

---

2024 Event Will Be Held on March 20, Details to Come




2023 Recap

Every year we are blessed to see the incredible support from the Dawg Nation community. This year we were once again blown away. We welcomed another sold out crowd filled with friends old and new, much laughter, a few tears, and which raised some funds for a very deserving and admired man the one and only, Wayne "Smokey" Fleming. Most of us know Wayne Flemming as the proprietor of Smokey's Skate shop in South Suburban Sports Complex (and now at Ice Ranch.) Smokey, as he's known, has a storied career in professional hockey and is a pillar of the Denver hockey community. Smokey has Type 2 diabetes and was forced to make the difficult transition regarding Health Care as well. Type 2 diabetes is a manageable condition that requires medication in order to maintain healthy blood glucose levels. The skate shop provides for his family but falls short on medical expenses. Unknown to Smokey, Scott Parker had made the trip down from his mountain home to celebrate a his old buddy. Bringing Smokey on stage so that he and Anthony Mulei could present this Avalanche legend a check for $15,000. This culminated another magical night of giving back.

The night would not have been possible without our incredible sponsors. For the tenth year in a row, Aspen Industries served as the title sponsor! We were joined by some of the best athletes, Milan Hejduk, Jan Hejda, Reed Low, Scott Parker, Declan Farmer, and all our University of Denver and USA Sled Hockey Players. And to our great comedians, Georgia Comstock, Mike Hammock and Steve Gillespie, you kept us laughing long after the show closed. And last, but my no means least… to our generous audience you make it all possible. We really couldn't do this without ALL of you.