Wayne "Smokey" Flemming
Published
---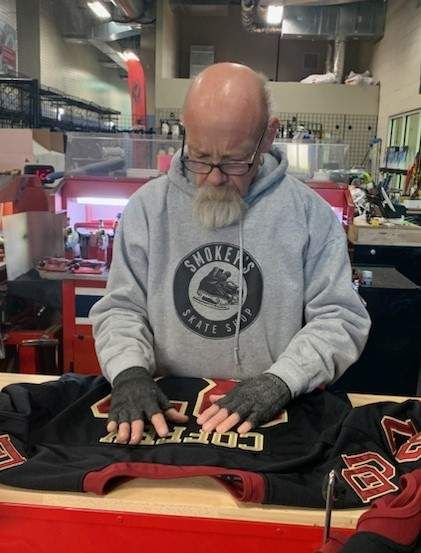 Comedy Night to celebrate an AVS legend
This year's comedy night was a massive success and featured some big time personalities, big time stories, and big time friendships.  Former tough-guys, Scott Parker and Reed Low took the stage for one final hilarious (verbal) brawl, to raise some money for charity.  Unknown to Smokey, Parks had made the trip down from his mountain home to celebrate a his old buddy. Bringing Smokey on stage so that he and Anthony Mulei could present this Avalanche legend a check for  $15,000.  This culminated another magical night of giving back.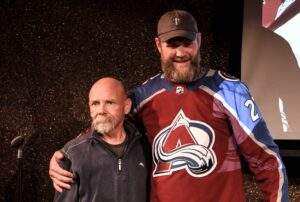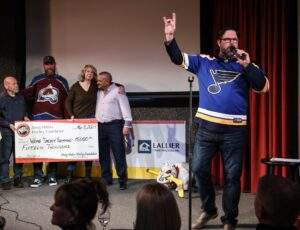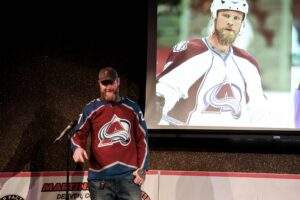 It was a good day talking hockey and delivering the "real" check to my man Smokey! If ya haven't been by Smokey's new shop, go check it out! you won't be disappointed!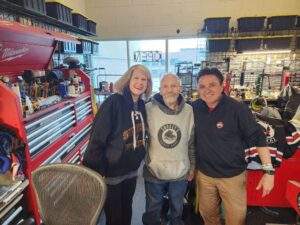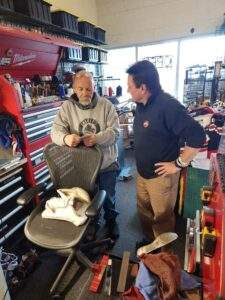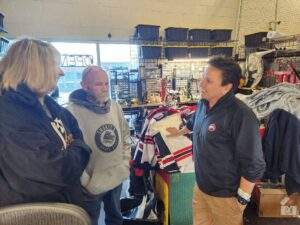 Working up the ranks, building career: 
Most of us know Wayne Flemming as the proprietor of Smokey's Skate shop in South Suburban Sports Complex (and now at Ice Ranch.)  Smokey, as he's known, has a storied career in professional hockey and is a pillar of the Denver hockey community.  Smokey is from Halifax, Nova Scotia and began his career with the AHL affiliate of the Winnipeg Jets as an assistant equipment manager. He went on to earn the spot as the assistant equipment manager with the Colorado Avalanche.  Smokey worked his way through the ranks and became the Head Equipment Manager for the club in 1999.  He was instrumental in the Avalanche becoming the massively successful franchise that we know today.
Smokey is an expert, with over 30 years experience he is a true master of his trade. A craftsman when it comes to the perfect skate sharpening and flawless equipment repair on demand.   Exemplified by his over a decade long tenure with the Avalanche where he was responsible for all things equipment: repair, maintenance, logistics, materials, inventory, and eventually retail of the game used items. 
Maintaining a Legacy:
Smokey's skate shop is the culmination of a lifetime of perfecting the business behind equipment management.  When the Avalanche eventually decided to go in another direction, Smokey took to his skate shop full time providing the Denver area with professional hockey equipment services. The shop was about two years old when he made the switch and began down a new path.
Smokey has Type 2 diabetes and was forced to make the difficult transition regarding Health Care as well. Type 2 diabetes is a manageable condition that requires medication in order to maintain healthy blood glucose levels.  The skate shop provides for his family but falls short on medical expenses.  Which brings us to where we are today.   After making his most recent move from the South Suburban Sports Complex, to a notably smaller venue, (Ice Ranch) expenses have piled up. Making the appropriate medical care  even harder to attain. 
With Insulin costs around $1000/ month, we call on the DAWG Community to help give this Colorado hockey pillar the that boost he needs to manage these tough times, and hope for a very very bright future.