At the time of Dawg Bowl, Tammy was not in well enough health to join us in person for a very big surprise. However, with some secret coordination between family members and friends, we were able to surprise Tammy via FaceTime during the opening moments of the Survivor Game. She was overjoyed and overwhelmed with the amount of love and support. The Dawg Nation Survivors skated in Tammy's honor that day. With a heavy heart we are saddened to share that Tammy Meier has taken her last breath on this earth. She passed peacefully with dignity surrounded by the men that loved her most. Her beloved Mark, and their two sons, Dylan and Matt.
Right to the very end this supermom continued to set a wonderful example to everyone of never giving up. She will be missed dearly and irreplaceable to the Meier family. Many of you followed Tammy's courageous fight over the last year that included the honor of us welcoming the Meier family into our pack.
Tammy, you will be greatly missed, but never forgotten. Dawg Nation will always stand by the Meier's Family as they walk through life without the light of their lives.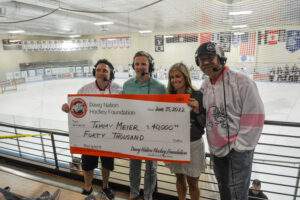 HOCKEY MOM
Tammy is a lifetime hockey mom to two sons, Dylan (Augsburg University) and Matthew (Bowling Green University), whom she painstakingly taught to skate and has always encouraged to follow their hockey aspirations. As a dedicated parent, she made countless trips to practices and games throughout the country and to Canada to watch her two sons play youth travel hockey and eventually junior and college hockey. She also took on multiple stints as a hockey mom to three high school aged billet sons (can you say sainthood?). Suffice to say, Tammy has dedicated an enormous amount of her life to the great sport of hockey and in supporting her sons' dreams.
DING, DING, DING, ROUND 2
Tammy was diagnosed with stage IV ovarian cancer in February of 2021. Tammy was selected to be a 2021 Dawg Bowl recipient. This financial assistance allowed her to receive treatment that had her cancer trending in the right direction. She said, "I probably would not be here today still fighting right now after Covid if it wasn't for the treatments I was able to pursue due to the generosity of Dawg Nation and all the hockey community." Unfortunately, during this downward trend in Tammy's cancer markers, she was infected with Covid. The inflammation caused by the virus resulted in a recurrence of the cancer. She was moved to hospice until she connected with a specialist in Atlanta who has given new hope to the situation and believes that a different set of treatments may be successful. Tammy is out of hospice, on a new chemo regimen, and is using a Thermofield machine – a new, innovative, noninvasive therapeutic tool which weakens cancer cells. Two months of treatment are around $42,000.
HOPE IS ON THE WAY WITH YOUR HELP
These new treatments prescribed to Tammy are still being developed and are considered "experimental" by insurance, meaning that they will not be covered. The Dawg Nation family is still fighting for Tammy and her family as they continue this battle with cancer. Hope is not experimental to DAWG Nation. We know first hand how your love and support creates more of it. We hope you consider making a donation to Dawg Nation in effort to assist with her recovery.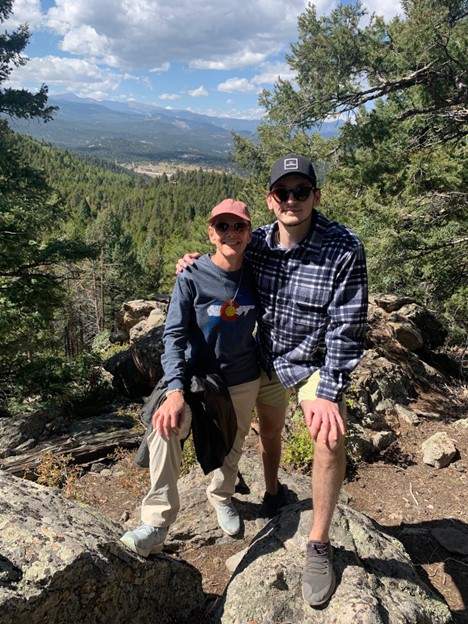 Your donation will help Tammy Meier, who DAWG Nation has selected as a grant recipient from its charitable class. Your contribution is made with the understanding that DAWG Nation has complete control and administration over the use of all donated funds in pursuit of its charitable purposes and in support of its charitable class.