It was yet another night of GIVING BACK as we were able to completely surprise the Lussier family at the Berg Haus in Castle Pines. Logan Lussier, a rising star at Castle View High School, suffered a brutal compound fracture earlier this year. The medical bills stacked up as the injury occurred out of state and required a stay of several days in a Boston hospital. Tonight we combined forces with the Castle View hockey community to lift up this deserving family and help get them back on their feet.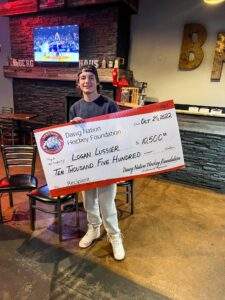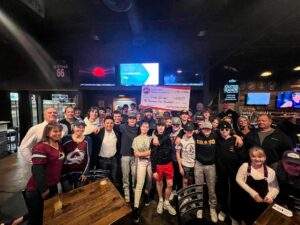 ---
Logan Lussier is a 16 year old hockey player attending and playing for the Castle View High School Sabercats in Castle Rock, Colorado. Even at a young age, Logan is already an accomplished hockey player and as a freshman was named the MVP for the Castle View Junior Varsity hockey team for the 2021-2022 season.
While attending an Elite Prospects hockey tournament in Boston, MA, Logan suffered a severe compound fracture of his right wrist.  He had emergency surgery at a Boston hospital and spent multiple nights there.  As expected the medical bills for emergency out-of-state medical care were substantial for Logan's family.