Twice as Nice:
Many of us got to meet the Palans at this year's, "Tee it Up For DAWG Nation" event.  The Palans were one of the benefactors of this years golf tournament where we were able to hand them a check for $20,000 to help with Lily's medical expenses.  We had an amazing turnout this year and were graciously joined by Stanley Cup winning coach Jared Bednar, and 3-time paralympic gold medalist Declan Farmer.  
After hearing Lily's story at the golf tournament, the DAWGS, not surprisingly, raised another 5K to help the Palans through their journey to getting Lily a new heart.   Their second check presentation was held at Stix Crafthouse, a hockey bar in Old Town Arvada.  This was another incredible day where Lily shared the stage with TWO other recipients.  We gathered for a super-rare, 3-check presentation at Stix where we helped lift  the spirits of a tenured referee and a goaltender suffering a terrible case of bad luck. 
Lily's Story continues here at DAWG Nation as we have since joined the Palans for Lily and her sister Verona for their first ever Avalanche game where we were visited by Bernie and interviewed by Rachel Tos.  Another awesome night in the books with the Palan family.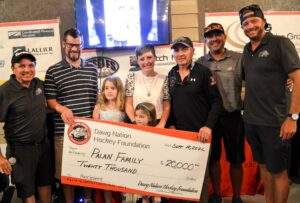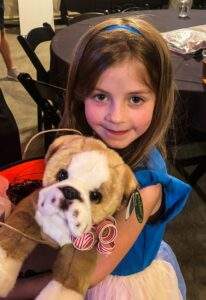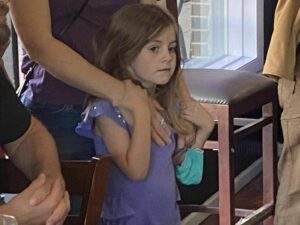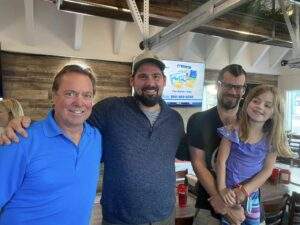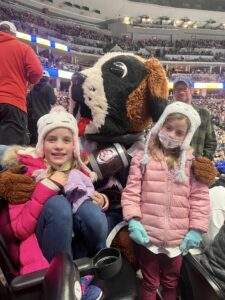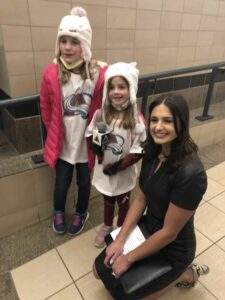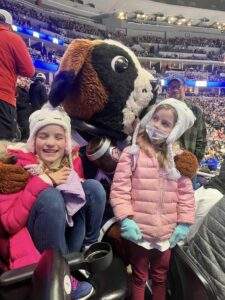 ---
Lily Palan is a kind hearted, generous, playful, sweet six-year-old.  She lights up any room with her charisma and beaming smile.  She's motherly and always looks out for kids smaller than her and enjoys playing dolls more than anything.  Someday she hopes to be a teacher or at least gets to work with children.  The people around her always comment on how big of a heart she has; ironically her big heart needs to be removed. 
Her parents, Evan and Jenny, grew concerned about Lily's slow growth, chronic cough, and leg pains which prevented her from running around like a normal six-year-old.  They took her to the doctor who ran multiple tests to discover Lily has celiac disease, what was thought to be pneumonia, an enlarged heart, liver, and kidneys.  Lily then underwent an echocardiogram so they could get a better view of her heart.  The cardiologist performing the procedure discovered severe dilation of her upper chambers and stiffness between heart beats, but had no idea why this would show up in a six-year-old.  A panel of cardiologists at the University of Wisconsin theorized that Lily had a rare heart condition (one in a million children) called Restrictive Cardiomyopathy.  They now know she never had pneumonia, but her heart was pushing fluid into her lungs and other organs causing enlargement.
Lily was admitted to the hospital for a week to perform tests.  Her condition is so rare she could be considered a unicorn and every doctor wanted to have a chance to evaluate her.  It was confirmed that Lily has Restrictive Cardiomyopathy, a rare condition where the chambers of the heart become stiff over time. Though the heart is able to squeeze well, it's not able to relax between beats normally. Eventually, this disease makes the heart unable to pump as much blood out to the body as it normally would and leads to heart failure.  After the evaluation, it was determined Lily's condition is due to a genetic mutation.  And with no other underlying illnesses causing her condition, there is no medication to treat her Restrictive Cardiomyopathy.  Lily's only hope is a heart transplant. 
The Palan's looked into pediatric heart transplant centers and landed on Children's Hospital Colorado.  Colorado is where their family started and called home for many years.  But the relocation to Colorado is bittersweet for the Palan family.  They are relocating from Wisconsin and leaving behind a vast network of family and friends so Lily can receive the treatment she urgently needs.  Lily will be added to the donor list upon arrival to Colorado in October.  She will have ongoing care for the rest of her life to keep the body from rejecting her new heart.  Currently, transplant hearts last about 15 years and most recipient's body are not strong enough to receive two transplants within their lifetime. This means Lily's life may be cut shorter than most.  Unfortunately, this little girl who loves playing with her baby dolls and dreams up names for her own children, may never become a mother of her own.
Evan, Lily's father, has been a rink rat for 19 years in the Denver metro area until his diagnosis of Multiple Sclerosis in 2016.  Amongst other health issues, he quit playing goalie in 2016 but continued to skate out selectively.  Evan refereed adult hockey games for 12 years but had to hang the whistle up as his health regressed.  The Palan's moved to Wisconsin in 2019 to be closer to family and get additional support.  Evan took over two years off from hockey to recover from a string of concussions.  The risk of concussions is too great with the balance issues from MS, but worked tirelessly for months to improve his core muscles to again be able to play goalie.  His hopes of ice time where once again delayed another year after he broke his foot in a random accident.  Fortunately, Evan was able to be reunited with his beloved sport again this year.  Evan looks forward to reconnecting with the Colorado hockey community.