On April 14, 2023 we gathered at Ritual Social House for an Avalanche watch party and to surprise referee James Stahr and youth hockey coach Stacey Stonehocker who were injured in a terrible car accident last October. Stacey and James have been recovering from the accident but their medical bills continued to pile up. The Dawg Nation army came out strong to support Stacey and James and present them both with checks for $10k! Thank you to our watch party sponsors Craig Blumengold – Homes for Sale Denver Metro and Kathy Nau, Mortgage Consultant!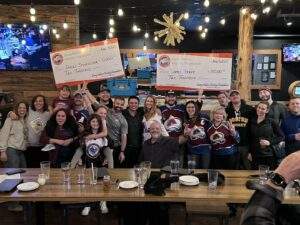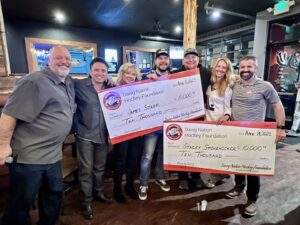 LOVE FOR THE GAME THAT BRINGS PEOPLE TOGETHER:
James discovered hockey during his freshman year of college in Buffalo, during the Sabres surprise run to the conference final in 2005. The following year he began learning the game through officiating roller and floor hockey for the University of Buffalo recreational department and have been in love ever since. After graduating in 2011, he moved to Denver and joined the Colorado Ice Hockey Referee Association, and began working at all levels of youth and adult hockey. 
Shortly after the lockdowns, James met Stacey at a charity skate. They met during "the post-game rehydration." Where he learned her love for hockey was just as strong as his, if not greater. A self-taught adult player, avid Avalanche fan, and Pee Wee coach herself, they clicked instantly and fell in love over the many other interests they shared.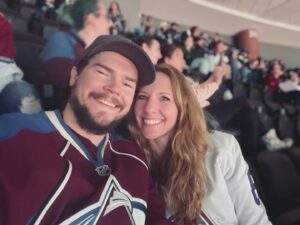 James has officiated several notable games including:  Quebec Qualifier Semi-Finals, U18AAA State Semi- Finals, and the CHSAA State Semi-Finals.
He has also donated his time to officiate DAWG Bowl games every year. 
A SCENIC TRIP CUT SHORT:
James recounts the terrifying day that turned their lives upside-down:
"Being a Colorado native that had never gotten to spend time in Aspen during the peak of the fall foliage season, Stacey wanted to join me for the 2022 Hockey Mountain High Tournament in October. The plan was for me to officiate games while she spent time with her other passion, photography, capturing moments both on the ice and in the scenic mountain town. Unfortunately, a surprise storm cloud interrupted the blue skies as we crested the summit of Fremont Pass on the drive toward Aspen. I couldn't see the hail built up on the road through the glare of the sun off the wet pavement and we slid out. While trying to avoid the guardrail and steep drop-off, I almost regained control but was drifting into the oncoming lane as another vehicle rounded the curve and struck us head-on. Thankfully there were no life-altering injuries for Stacy, myself, or any occupants of the other vehicle; however, several bones were broken and both cars were totaled. " 
"Stacey had started a photography business before the pandemic, but due to the lockdowns and other life circumstances had to abandon that dream. She was starting to entertain the idea again and was going to use the tournament weekend to get back into seriously taking photos, but the broken thumb prevented her from being able to use the camera and that's been on hold since."
REACHING OUT TO THE COMMUNITY THEY LOVE:
"As you can imagine with any severe collision of this magnitude, the medical bills have been piling up, and the insurance company is not making things any less difficult."
"So, a huge thank you to Dawg Nation for putting together this fundraiser and matching contributions from the community Stacey and I have been giving our time, love, and support."
It is a historically difficult time to try and replace the things they have lost, so today we ask the community to come together strong as we always do. Lets get James and Stacey back on their feet!!!
---