Coach's Show with Coach Carle:
It was great to see everyone again as Rob Hamblin funneled into the outdoor seating area at campus lounge.  Big Thanks to everyone who made the trip through a less than pleasant snow storm in order to celebrate Rob on this week's edition of the the "Coach's Show With Dave Carle."  Family and friends filled the room and grabbed a drink while Marty spoke with the legendary Sandy Clough in tribute to their beloved Rob.   Marty wrapped up the show stating "
I'm reminded over and over how precious life is, and I'm also reminded over and over that the world is full of good people. Hu g yours tonight."  Thank you to everyone who turned out tonight despite bad weather to celebrate Rob and make this a memorable event with lots of love.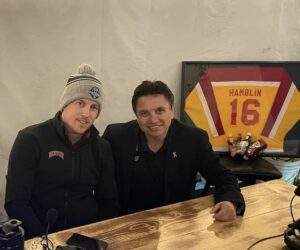 ---
In Memory of Rob Hamblin:
Rob Hamblin passed away in his home, surrounded by family, on September 4, 2022 after a three year battle with Glioblastoma.  He was 46 years old.  Rob grew up in Denver, attending St. Vincent de Paul grade school and Denver South High School. He earned his bachelor's degree in 1999 from the University of Colorado at Boulder with a double major in Business and Spanish.  Rob went on to work in property management and appliance repair where he had the opportunity to use his Spanish.  Later, he worked in the fracking industry where he would travel to sites across the western US as well as to Argentina to lead a team of people.
Rob LOVED hockey.  He started playing hockey when he was 10 after watching the college kids play over at the University of Denver.  He played youth hockey at DU, then later played competitive hockey with Team Colorado, where he was able to travel to different states and Canada for tournaments.  His love continued into adulthood where he played pickup hockey at CU and in Denver.  Rob was also a true Colorado Avalanche fan.  He never missed a game.  Some of his favorite memories were celebrating the first Avs Stanley Cup win in 1996 with his high school pals and of course, 2022's Avalanche win of The Cup!
Rob was passionate about music and was an accomplished guitarist.  He played in several bands in his adulthood including Fresh Produce and The Hatching Grounds.  He loved all kinds of music but gravitated toward soulful blues and rock.  He always carried his guitar with him when traveling and enjoyed friends and family sitting around listening to him play his tunes.
Rob is survived by his parents, Jim and Maggie Hamblin; his sisters Kim (Monte) Watts and Jennifer (John) Koch; his nephews James Watts and William Watts; his nieces Ansley Koch and Claire Koch; numerous aunts, uncles, and cousins; and his beloved kitties CL and Jeepers.  His 3rd kitty Smoothe is loving on him now on the other side.
Funeral services will be held at St Vincent de Paul Church (2375 East Arizona Avenue in Denver) at 10:00 am on Saturday, September 24, 2022 followed by a Celebration of Life at Campus Lounge (701 University Boulevard Denver) immediately following. The Hamblin family invites friends and family to come celebrate Rob's life with some music provided by Rob's bandmates and some food and drink.  In lieu of flowers, the family requests that donations be made to Dawgnation.com, a charity of Rob's choosing.  Dawgnation is a nonprofit charity dedicated to providing opportunities for persons with and without disabilities to participate in national and international amatuer ice hockey events and to support ice hockey players and families in times of crisis.
Thanks to everyone for their support of Rob and his family over these past 3 years.  Please share your memories, photos/videos and any stories that you have about 'Bobby'/Rob Hamblin on the tribute wall.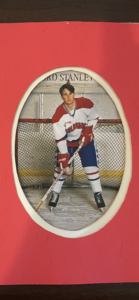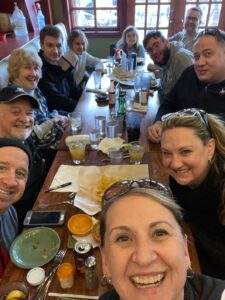 Your donation will be made in memory of Rob Hamblin, who DAWG Nation has selected as a grant recipient from its charitable class. Your contribution is made with the understanding that DAWG Nation has complete control and administration over the use of all donated funds in pursuit of its charitable purposes and in support of its charitable class.