An absolutely gorgeous day at the University of Denver Golf Club, the perfect setting for the 2022 "Tee it Up for Dawg Nation" event.  Although golf was on everyone's mind, GIVING BACK was the theme of day.  The Tayloe family were the beneficiary of this years tournament, and it was a great success.  With Avalanche head coach Jared Bednar in attendance we were able to collectively lend a helping hand to a very deserving family that night.  Although the future may be uncertain for Hilary, the support her family felt that night was rock solid. Thank you again to everyone that made our 2022 golf event our best one ever!!!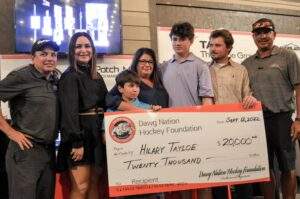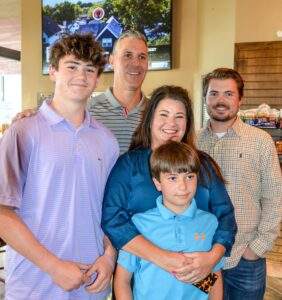 ---
Hilary was diagnosed with breast cancer in Jan 2021. She is a devoted, amazing hockey mom and player who lights up any room she walks into. Hilary is the life of the party and wonderful friend to many – she has a hug for anyone who needs it, anytime! She is the best single mom to 3 amazing boys, Joe (24), Sam (16), and John (9).
Joe & Hilary play together on RMHL Wild Juan's, Sam is a 16UAA LHA player, and John is moving into his 2nd year of LHA Squirts. Hilary has had three surgeries since March of this year with two more to go in September and December; and hopefully no more than two next year.
She is making the best of her circumstances despite all the time needed to heal and head back to surgery. She did not need chemo and radiation and feels blessed beyond belief. Hilary will continue to have additional time out of work (she is in sales) and mounting medical expenses. Thank you for your support as Hilary navigates a very physical, mental, and emotional healing journey.